Catholic Deliverance Books
An Exorcist Explains The Demonic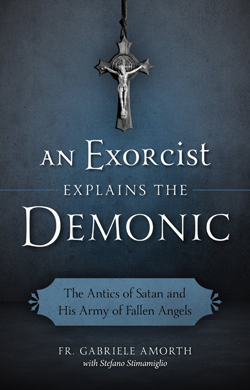 From the renowned exorcist of Rome, comes a powerful, eye-opening book on the deadly antics of Satan and his fallen angels. In this book, Father Gabriele Amorth provides a basic orientation in demonology and explains Catholic doctrine on fallen angels and their innumerable manifestations.
Among the many questions Father Amorth answers are:
What are the powers that come from Satan?
Can the sins of our ancestors influence our lives?
How are spiritual evils contracted?
What is the role of sacramentals in fighting off temptation?
When should exorcisms and prayers of healing be performed?
What you should do when a family is being attacked by a demon?
An Exorcist Explains the Demonic by Father Gabriele Amorth is available from
Sophia Institute Press for only $14.95 plus shipping.


---
Interview With An Exorcist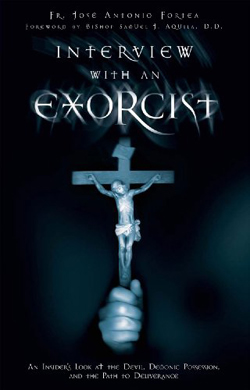 In today's culture of scientific enlightenment, many consider belief in demonic possession and exorcism to be superstitious remnants of the Dark Ages. Even many Christians, contrary to the clear words of Jesus in the Gospels, scoff at the notion that the devil and demons really exist. Is demonic possession real? Are believers really in any danger from Satan and his crafty minions?
In this captivating book, you will find answers to these questions and many others. Written by one of the Church's foremost experts on the topic, Interview with an Exorcist is based on Father Jose Antonio Fortea's years of working as an exorcist, his extensive investigations of cases of suspected possessions, and his attendance at hundreds of exorcisms.
In this book you will learn the difference between demonic possession, obsession and infestation; how to tell the difference between psychological problems and demonic oppression; and why consulting mediums, dabbling in witchcraft, or having recourse to occult practices is an open invitation to demonic spirits.
Interview with an Exorcist by Father Jose Antonio Fortea is available from
Ascension Press for only $11.99 plus shipping.


---
Catholic Deliverance Manual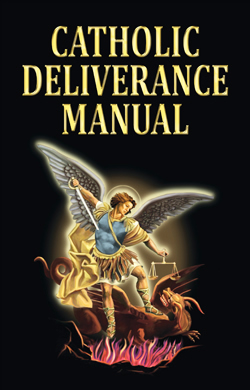 As our world grows more indifferent to spiritual matters and the battle for lost souls intensifies, the devil and his vast army of fallen angels have devised a plan to use cleverly crafted agreements to prevent our friends and family members from entering into an authentic relationship with the Blessed Trinity.
Because the outcome of this spiritual battle will determine every person's eternal destiny, the Catholic Deliverance Manual is an essential resource that will help you identify the devil's deadly devices. The spiritual exercises and deliverance prayers in this instruction manual will help you and your family members denounce sinful agreements with evil, push back enemy lines and tear down demonic strongholds, all through the name, power and authority of our Lord and Savior, Jesus Christ.
When you order the deliverance special, Valentine Publishing House will send you Catholic Deliverance Manual, The Catholic Warrior and two copies of the
Spiritual Warfare Prayers for only $18 with free shipping.