Our Lady of Emmitsburg
Gianna Talone-Sullivan
Gianna Talone was the youngest of three children in Phoenix, Arizona, with parents of Italian descent. By the age of six, Gianna became the youngest professional ventriloquist in the United States. The following year, the family moved from Phoenix to Beverly Hills and within a few weeks, Gianna was a child actress and dancer, appearing in more than a dozen television shows.
Gianna's supernatural experiences began one night in September 1987 when a beautiful young woman appeared and began praying over her. The mysterious woman smiled and then disappeared, without saying a word. Although Gianna was only a nominal Catholic, the visions continued for several days, inspiring the young woman to return to church.
In the spring of 1988, Gianna experienced an overwhelming desire to visit Medjugorje, where her pastor, Father Jack Spaulding, claimed he had been spiritually transformed the previous year. Thanks to his testimony, his parishioners had formed one of the first U.S. based prayer groups devoted to the Medjugorje messages. Gianna attended these meetings and decided to join ninety-seven fellow parishioners on a pilgrimage.
While in Medjugorje, Gianna began hearing voices from the Blessed Mother and Jesus appeared to her as an infant. Apparitions and messages continued to follow her after she returned home, where many others from the Scottsdale area were also experiencing heavenly locutions and apparitions from Jesus and Mary.
By August 1988, Jesus began dictating a series of "lessons" to Gianna, which were published by The Riehle Foundation as I Am Your Jesus of Mercy. As the daily dictations from Jesus continued, Gianna soon began experiencing apparitions from the Virgin in December 1989. Soon after Father Spaulding began to be used as a mouthpiece at the group's prayer meetings when Jesus and Mary began to speak through him. As news of the events spread, it was soon announced that a commission had been formed to investigate the alleged locutions, led by Father Ernest Larkin, a Carmelite theologian admired for his intelligence and spirituality.
After conducting an extensive examination of the events, Father Spaulding stated that the "investigation" they conducted was "absolutely crazy." The report the Bishops' Commission submitted in 1990 described the events at the prayer meetings as "explainable within the range of ordinary human experience." During this time, Father Robert Faricy, a strong Medjugorje supporter, concluded that the apparitions and locutions in Scottsdale were "authentic," which helped make them internationally known, and by this time, visitors from all over the world were now attending the Thursday-night prayer meetings.
In early 1991, Gianna's husband, Michael Bianchi, left her and filed for divorce. The news of the divorce greatly disturbed the Scottsdale parish, nearly causing breakdowns and loss of faith. Those who did not leave in disillusionment reasoned that the divorce had occurred so that Gianna could experience rejection, just like Jesus. Satan soon began to attack the seer during the night, often covering her with bruises. Because the Scottsdale group of visionaries and locutionists began to disintegrate, Gianna then went to live at a cloistered Carmelite monastery in Wisconsin to decide if she wanted to become a nun. After only six weeks, the convent collie, who was never known to be aggressive or mean, viciously bit her in the face, causing her to nearly lose an eye. Gianna returned to the Scottsdale parish but, in January 1993, decided to move out east and marry a man she barely knew, in the belief that it was "God's will."
In November 1992, only two months before, Gianna first met Michael Sullivan, a physician who had come to Phoenix to attend a cardiology clinic. He decided to attend a meeting of the Scottsdale prayer group because he had a religious experience in Medjugorje. Although Gianna and Michael barely spoke, she invited him and about twenty other pilgrims to attend a "private apparition" at her home. The first words our Lady spoke were "Allow me to introduce you to your husband." Michael failed to show up at a dinner party the following evening where Gianna was a guest, so the two did not meet again until the following month, when they saw each other at a Marian conference in Denver. By New Year's Day they were engaged.
The couple made their first trip to Emmitsburg in January, but when Gianna informed her future husband that the Virgin had invited them to relocate there, Michael felt that sacrificing the career he had built up in Pennsylvania was asking too much. He finally relented and the couple, now married, moved to Emmitsburg, on November 1, 1993. Two days after moving to Emmitsburg, Gianna and Michael Sullivan attended their first Marian Prayer Group in the chapel at Saint Joseph Church. During the Rosary, Our Lady of Emmitsburg appeared to Gianna, and continued to do so during each subsequent prayer meeting.
As word spread about our Lady's appearances, thousands of people started attending the meetings. Three months after the first apparition occurred, the chapel could no longer hold all the participants. From that time forward, Gianna has experienced a weekly apparition from the Blessed Mother. After each apparition, a message for the world is given through Gianna, from Our Lady of Emmitsburg, and then distributed among the people.
Messages include a variation of the Warning, Miracle and Chastisement—that in one single moment everyone on earth will see simultaneously the state of their souls and know with certainty that God exists, that a miraculous sign would occur in Emmitsburg in October 2000, and that there will be many trials and tribulations, especially for those who do not accept the Divine Will principle. The seer also revealed that Jesus would return as a child, a teaching that cannot be reconciled with that of the Church.
In the message of July 13, 2000, Our Lady of Emmitsburg states, "I have waited patiently for 2,000 years for My plans to unfold because God the Father permitted Satan to draw souls away from His truth. Satan's reign is ending this year and now I am moving swiftly on his turf to reclaim all those who were deceived and lost." She also states, "My plan has begun with the gathering of the magisterium of the Catholic Church, the Orthodox Church officials, the leaders of the Arab and Jewish world, and the most powerful political leader of the United States and of the world at this center of my Immaculate Heart. Watch and see for I am about to meet Satan on his own turf and extinguish his ways forever."
This message is consistent with the Antichrist's plans for world domination, which involves uniting all faiths, thus "extinguishing" Christianity forever. In Gnosticism, the word satan does not refer to Lucifer the fallen angel, but rather to the God of Christianity who, as stated here, was allowed to deceive mankind for 2,000 years through the Church. The same theme is prevalent in the New Age movement, which is working toward a false era of peace that will be marked by universalism and sinlessness for those who renounce their free will.
On Friday, September 8, 2000, Archdiocesan officials met in Baltimore with Gianna to inform her that the Church found it impossible to permit the continuation of her prayer services centered around apparitions she alleges to experience with the Blessed Virgin Mary. The following statement was read at Saint Joseph Church during Mass the weekend of September 9th and 10th.
1. Following a careful examination of recently available information relative to the alleged apparitions, the Archdiocese of Baltimore finds no basis for them.
2. The Archdiocese of Baltimore has directed that the Thursday night prayer group meetings held at St. Joseph Church in Emmitsburg, Maryland be discontinued at this time.
3. The Archdiocese of Baltimore is unable to support the message of the video "Unbridled Mercy" and has asked that sales of the video be discontinued immediately.
Mrs. Sullivan is on record as having allegedly experienced apparitions of the Blessed Mother while living in the Diocese of Phoenix. Since her relocation to the Emmitsburg area approximately seven years ago, these alleged apparitions have continued. The Archdiocese of Baltimore, as the Diocese of Phoenix before, has until recently taken a neutral view on the authenticity of Mrs. Sullivan's alleged apparitions. St. Joseph's parish in Emmitsburg has hosted her Thursday prayer services over the past several years and attendance has grown to several hundred attendees each week.
Prayer services and prayer groups (there are over 30) are encouraged and common around the archdiocese, where parishes make dedicated efforts to provide for the exposition of the Blessed Sacrament and adoration of the Lord (two parishes provide Perpetual Adoration of the Blessed Sacrament and many others offer Eucharistic Adoration on a regular basis), the opportunity to seek the Blessed Mother's intercession through prayer, and often the opportunity to receive the sacrament of reconciliation. The Thursday prayer services at St. Joseph's had combined these elements. More importantly, however, they had primarily become a platform for promoting Mrs. Sullivan's alleged apparitions in a setting which suggests Church approval of both their authenticity and theological content.
This action by the Archdiocese comes after a review of several months by Archdiocesan officials and theologians. Although the Archdiocese does not intend to detail a point-by-point theological analysis of the content of any of the messages Mrs. Sullivan claims to have received, it finds elements in them that cannot be reconciled with the teaching of the Church, including material that deals with predictions for the future and visions of an apocalyptic nature. Additional information presented in a video by and about Mrs. Sullivan entitled "Unbridled Mercy" played a significant role in this review and its result. For those who may be disappointed by this action, the archdiocese encourages continued prayer. The Archdiocese calls on the faithful to strengthen their resolve to follow Jesus through reception of the sacraments, personal prayer, study of our Catholic faith, devotion to the Blessed Mother, and participation in the life of their parishes.
On June 7, 2003, the Archbishop of Baltimore issued the decree of constat de non supernaturalitate. Since that time, Gianna Talone-Sullivan's published works and prayer meetings have been banned from Church property.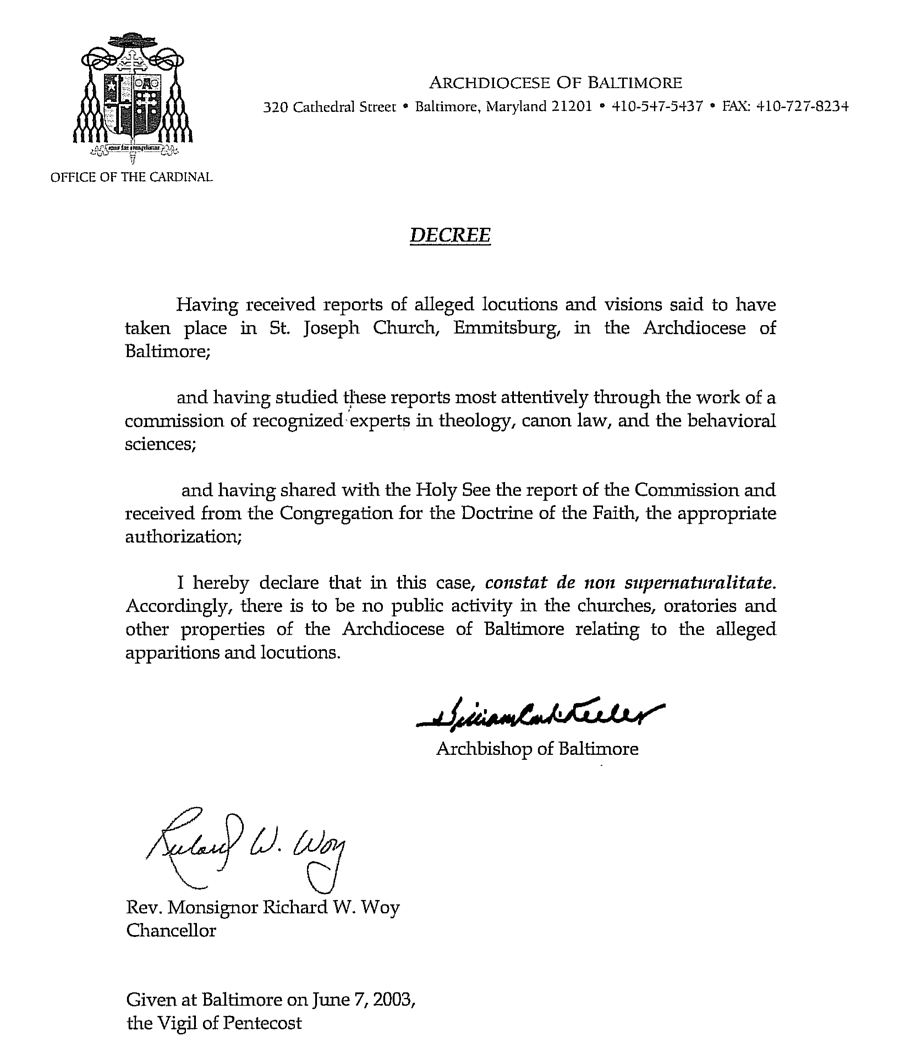 For more information please visit Our Lady of Emmitsburg - Gianna Talone-Sullivan.